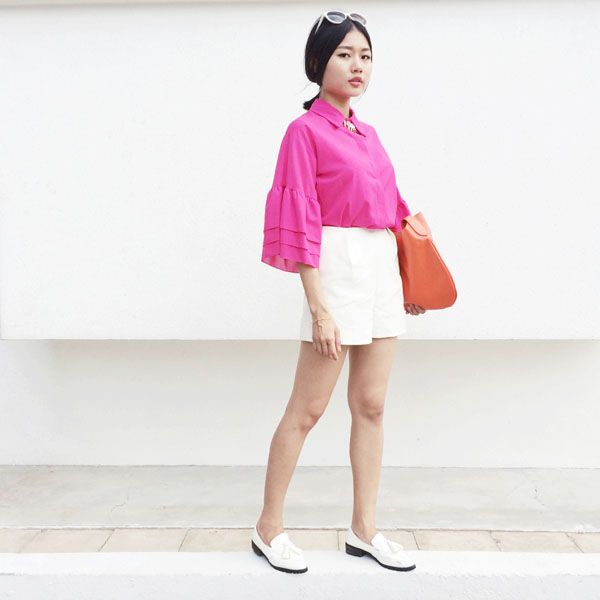 I have a profound liking for bell sleeves and big sleeves. I also have an addiction to leather and textures. So when I decided to put these elements together on a stifling hot summer day, I took the risk of steaming myself through from waist down. But one of those things that makes me feel good about dressing up is not only how it makes you look like who you are, but also because it exercises the creative part of the brain that school has not taught you to put to use very well.
And believe me it feels so dayum good when no one can tell your 4 piece outfit costs no more than 45 bucks (yes, shirt + leather shorts + shoes + necklace!) Each of these pieces have been staples in my wardrobe for at least a year or two but never lost my favour. In fact, I'm finding it hard to find replacements for my favourite white loafers that are falling apart.
Wearing also my favourite shades of the moment from Valentino,
from my Valentine
, in sleek cat eye shape and scalloped frame corners. I'm back to my YSL orange lippie for that summer haute basic neutral look. Plus finally my hair is long enough to be assembled into a pony tail that doesn't fall apart after taking ten walking steps. Temporary back to center parting before big change comes in mid June! Can't wait. Xx
P.S. I do realise I appear to be writing rather incoherently at the moment....