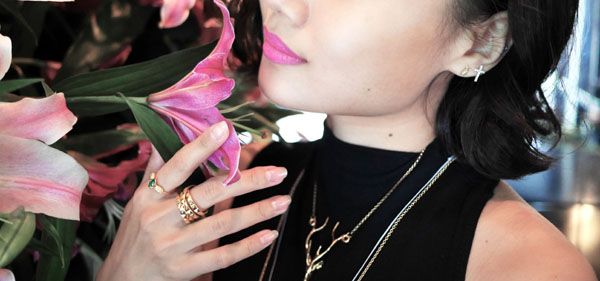 The afternoon before leaving Singapore I was asked to an impromptu meeting with Angela from
Annielka
. She found me by chance on Instagram and took a liking to my style and photography and immediately asked for a collaboration which took me by surprise. The result was me witnessing some of the most exquisite jewellery I have ever laid my hands on, over a relaxed afternoon of desserts and coffee.
It is difficult not to be drawn to Annielka's sleek and luxurious aesthetic on their
website
, which is replicated on their
Instagram
and I mega love! Her eclectic selection of jewellery curated piece by piece by Angela represents the best of independent designer jewellers
Daisy Knights
,
Lee Renée
and others whose pieces are worn by the likes of style icons Kate Moss, Rihanna, Alexa Chung and Cara Delevinge. Some pieces like the tiny
Miami Vacation Pineapple Earstuds
I was wearing (how cute are these?!) was featured by Vogue UK and I'm not exaggerating to say that every of these delicate pieces deserve to splash across Vogue pages.
The collaboration only seemed natural as there is a heavy focus on gold and quality elements, which I immensely appreciate as someone who is allergic to costume and fashion jewellery. Annielka also thoughtfully promises to carry jewellery that are made with at least 14k gold with a required thickness to minimise tarnishing or wearing out. That's a saviour!
What's also amazing is that you get quality jewellery made of real, lasting materials in stylish designs at less than designer prices as Angela works with the designers themselves directly. With four styles to shop in, it doesn't matter if you're a Modern Luxe babe, Bohemian chick, Rock Chic girl or Minimalist. I'm already eyeing the Daisy Knight's
22k Gold Large Feather Pendent Necklace
and
22k Gold Vermeil Studded Wrap Ring
and Lee Renée's Pineapple Earstuds! Of course I fell madly in love with their Modern Luxe and Bohemian selection but after all, we're all a bit of style chameleon aren't we? I would stack all six pieces I'm wearing any day as they are so easy to match and interesting in their own ways.
More exciting collaborations upcoming as I can't wait to personally meet some of the designers themselves here in London! Xx